Review of Thrivecart Learn [ 2023 ]
What is a Learning Management System and why do you need it?
A learning management system is a software that is used to host courses. An application that lets you be in control of your course right from designing and publishing the course, to managing the students.
While Learning Management systems are efficient, popular LMS nowadays can tend to come at a monthly recurring fee like Kajabi. One affordable option available as a one-time payment option for course creators is Thrivecart Learn and Learn +.
What is Thrivecart Learn and what are its features?
Thrivecart is a shopping cart platform which offers conversion-optimized checkout pages. I have written an in-depth review of Thrivecart and all their checkout page features in this blog.
Thrivecart Learn is an LMS platform launched by Thrivecart in 2021. It has all the necessary functions and features that you will need for your course.
What's excellent about Thrivecart Learn is that you only need to pay once! No recurring fee, unlike most platforms.
Thrivecart learn has two versions, namely-
Thrivecart Learn – This basic version comes with your Thrivecart account at no extra cost.
Thrivecart Learn+ –The paid version has several extra robust features on top of the basic features.
Both of these versions allow unlimited courses, modules, lessons and unlimited students. Let me take you through all the amazing features Thrivecart Learn offers.
Thrivecart learn has a solid course builder that allows you to create unlimited courses with modules and lessons. Various types of content can be used to make the lessons more engaging and interesting.
You can use videos, text, headings, images, FAQs and downloadable files to make a comprehensive course. You can also use dividers, bullet points, columns, buttons and content boxes to make the content attractive. New features like quizzes are also expected to be launched soon.
What's better than a course builder? A builder that lets you customize the look and feel of the course area. With Thrivecart learn you can style your courses the way you like. You can do this by styling the 3 main elements, the title, the sidebar and the spacing and then selecting the colour, font, and images that fit in with your brand. You can also customise the lessons and modules to a great extent to match them to your liking.
With sidebar styling, you can select whether you want a block or pill tab style, tab radius, and the colour you want for different tabs like the active tab or active lesson tab.
Spacing allows you to control the space of your content and course layout. This means you can decide how much space will the actual content take and how wide you want the sidebar to be.
With title styling, you can choose the title font, size and colour for lessons, modules and courses.
You can customise your login page so that it aligns with your course and brand. Thrivecart gives you several options like background colour and different elements that you can use to create your login page.
On Thrivecart Learn you can select different layouts for each of your courses. There are three options- Sidebar, Top Menu, and Grid- that you can use to suit your preference.
With the sidebar style, the sidebar occupies the left-hand side and the main lesson content occupies the main screen.


In the top menu, all the content of the course will be displayed on the top bar with the ongoing lesson taking up the rest of the screen space.


And lastly, the grid option displays all the course modules in the form of a grid, like the one in the screenshot below.
Unlike a lot of other LMS platforms that limit the number of courses you can have on a plan, In Thrivecart, you can host an unlimited amount of courses.
Thrivecart Learn gives you great control over how you want to drip out the contents of your course to your students. You get five different options to select from, these are -
You can choose to deliver the content based on a time period. For instance, if you want to deliver the lessons and modules weekly, daily, monthly, etc. It would schedule the lessons to be released based on the time period you set. ( This style is used in evergreen courses, where every student has a different start date of the course)
Instead of releasing the course content based on the time period, you can also choose to deliver it on a fixed day of the month, for example on the fourth day of every month. ( This style is used in evergreen courses, where every student has a different start date of the course)
With a specific calendar date, you can allow all the students to access the content on a specific date, together. This is especially helpful for high-in-demand courses as you can create cohorts based on the releases. ( This is used in live launching style of courses)
You can deliver content based on when a student pays for your course if the student opts for an instalment method of payment rather than a one-time payment. Similarly, you can also drip your content after a student completes a trial lesson or period.
You can also choose to give access to the content instantly after a student has purchased the course.
Learn lets you be flexible as you can choose different delivery methods for each module and lesson within your course.
How do students access the course?
Thrivecart lets you be in control of how you want your content to be accessed by students after making a purchase. You can choose what will happen after a student purchases, for instance, you can direct the students to your membership site after they have made the purchase.
Since Learn is a free platform that comes with your account of Thrivecart, it does not allow hosting videos or downloads. However, you can use popular video hosting tools like Youtube or Vimeo to embed video content on the course. Since learn is available at a flat one-time fee it can't host videos for you, it will not be a viable decision for them as a business.

Similarly, you can use Amazons3 to host your downloads.
Under My students, you can access and download the data about your students. You can filter your student dataset by particular courses or dates of enrollment and search for a particular student using their email id or name. And if you have Learn+ you can also filter them using Tags. This helps you to manage your students efficiently.
You can also control your student's access by restricting or pausing their access to the course or even unenrolling them altogether.
This is the paid version of Thrivecart Learn and comes with several robust features that you can use and capitalise on. Here are some of the features that you get with Thrivecart Learn+.
If you want your course to have a touch of your brand then Thrivecart learn+ is the best platform for you. Unlike the basic version where your course URL will have Thrivecart, in learn+ you can design your own domain name. You can have different URLs for different courses or use a uniform domain name, it's your choice.
What's great about Learn+ is that you can delegate your work to your team. You can give access to your team members so that they can manage and monitor the course and students.
You are in total control of what permissions you give to them and for which course (if you have multiple courses). You can also restrict certain actions like creating or deleting bundles, and courses and limit their access to the student database.
Tags help you filter through the student database and restrict or allow them to access specific content of the course. For instance, let's say a student named Sam bought your course through a coupon code, while another student Ed bought the course at the normal price.
Now you want to limit Sam (or students who bought the course through coupon) from accessing the Bonus lesson you created, while letting all the other students access it. You can do this by filtering students with Tags, for us it will be coupons. And then restrict these students from accessing the bonus lesson.
With bundles, you can sell multiple courses as one bundle. You can add multiple courses to one bundle so that when a student purchases the bundle they have access to all the content of these courses. You just have to create a bundle, set product fulfilment and publish it.
Added drip content options
You can choose to deliver your content to students depending on how much they pay. For example, if a student does a one-time full payment you can give full access to all of your content at once.
On the other hand, if the payment method is instalment based, you can choose to deter the delivery of respective content based on when they pay again.
You can limit access to students after a certain period of time has passed. So if you decide you don't want to give unlimited access to your material you can set the expiry date here.
This has to be the best feature for course builders who are looking to shift to a new platform after having used one platform for some time. You might already have a student base on that platform that you would like to transfer to learn.
You can simply import your students to Thrivecart Learn+ with the import students function within less than 5 minutes and a few clicks.
Thrivecart gives the Learn+ users access to featured content which gets highlighted in your course.
Learn+ makes cross-selling of courses really simple. Students can see the courses they don't have access to in their dashboard and consider buying them. ( Extra passive income for you)
Conclusion
Thrivecart Learn is great for the course creators who are just beginning their course-creating journey. It offers just the right features that one would require in order to build a good-performing course.
For experienced course creators, Learn+ is the one to opt for. Since you can import your existing students, assign tags and permit your team to manage the courses.
Considering you only pay once, Thrivecart Learn and Learn+ are perhaps one of the best platforms out there. Furthermore, the platform is very easy to use and master. If you want help creating a course on Thrivecart Learn, I have a to save you from the troubles.
Other Thrivecart Blogs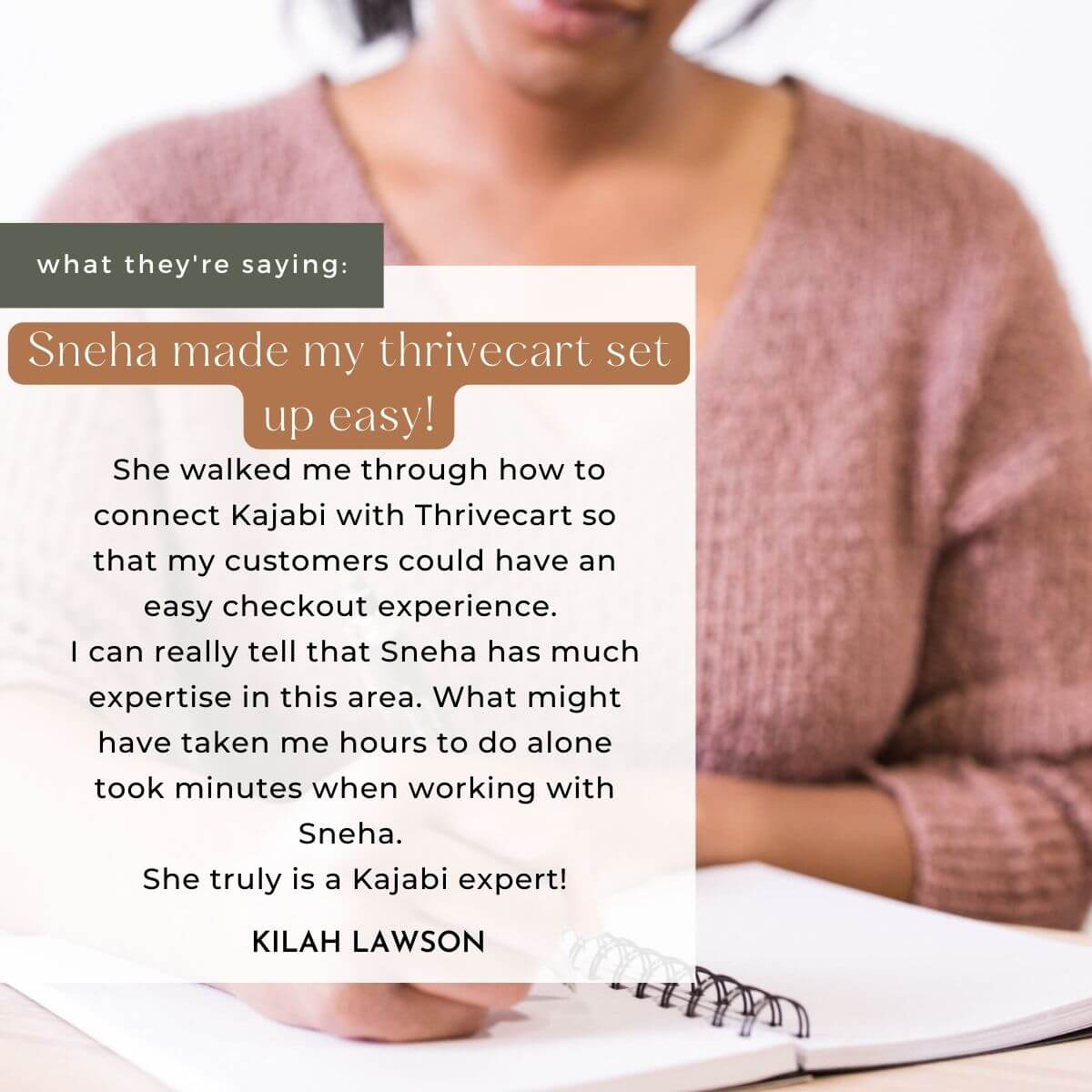 If you want the support that Lisa, James, and Kilah, Hardus got, signup for Thrivecart using my partner link here.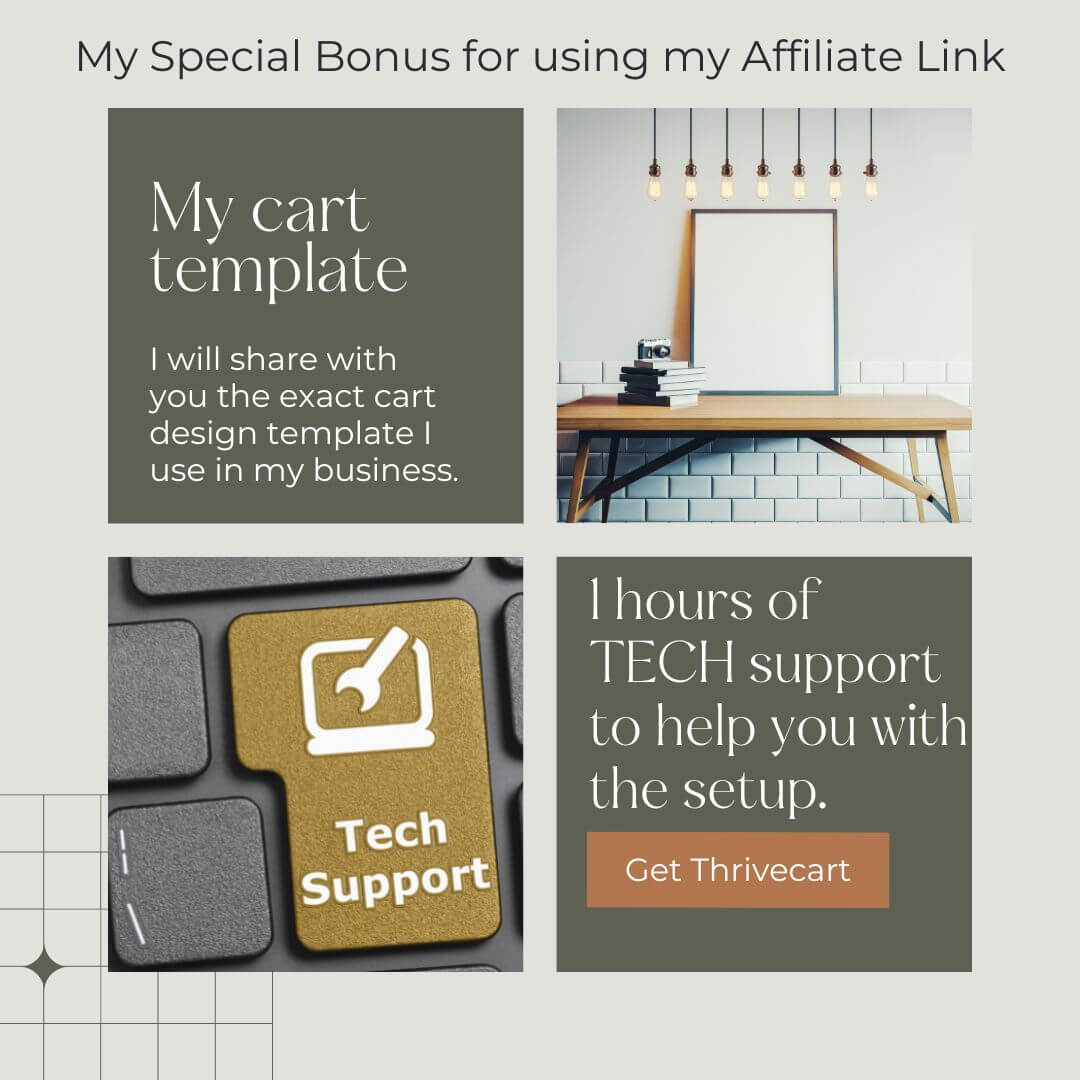 ---
Click here to get started with Thrive Cart! →
Disclaimer: This message does contain affiliate links meaning if you click on one of those links and end up making a purchase after doing so I might receive a small commission. I only promote products and events that I truly believe in.