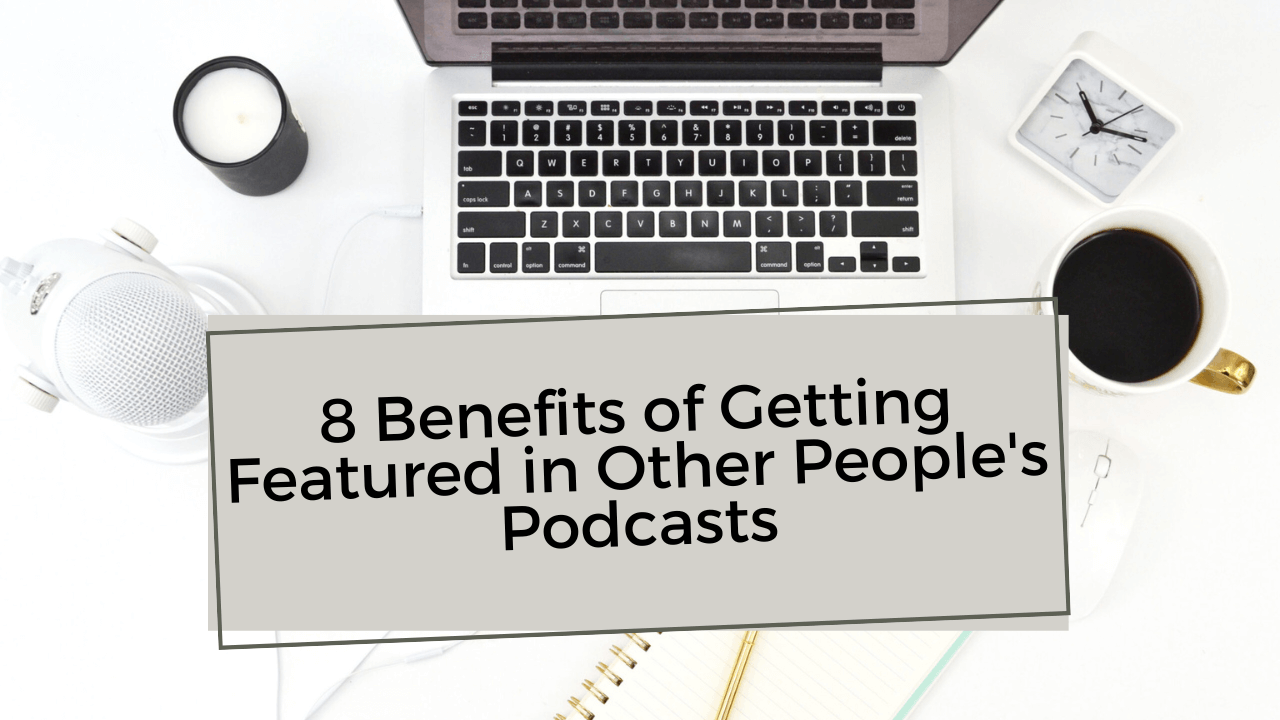 8 Benefits of Getting Featured in Other People's Podcasts
Podcasting is a great way to advertise your business to a larger audience. If the podcast is well-produced and engaging, it can help you build trust and credibility with potential customers.
In fact, when you get featured in other people's podcasts, they do most of the production work, and all you have to do is show up! So it's less work on your end. Plus, the podcasters and the audience both benefit from your content which is a win-win.
Here are my top 8 reasons why you should get yourself featured in other people's podcasts:
Puts You in Front of an Engaged Audience
Getting featured on another person's podcast is a very good way to get a front-row seat in front of someone else's engaged audience. It is a great way to boost your visibility and grow your reach. Podcasts allow you to showcase your business more authentically, increasing website traffic and helping in building brand authority.

Increases Brand Awareness and Visibility
Being featured on popular podcasts will get more eyeballs to your business. It will help you build a reputation as an expert in your field, leading to speaking engagements and more business opportunities. Plus, being mentioned on popular shows will create buzz around your products and services.


Creates Relationships With Listeners
Podcasting is a great way to connect with an audience at a more personal level. Many successful podcasters have built their businesses by creating relationships with their listeners.
By providing valuable content and interacting with listeners, you will be able to build strong relationships with them.


Builds Stronger Credibility
Podcasting can be a great way to build credibility as an expert in your field. By being featured on popular shows, you can establish yourself as a credible source of information.
The most crucial factor in building credibility is sharing valuable content that the podcast listeners will find beneficial and would want to learn more about.
If they like what you share in the podcast, they will come and follow you on your platform.


Brings More Traffic to Your Websites
Podcasts are a very effective marketing tool. You can increase your visibility and bring more traffic to your website or social media pages. When people hear about your business or ideas, they may be interested in learning more. This can lead to increased traffic to your website and more sales opportunities.


Helps Feed the Content Machine

There are plenty of ways to produce content, but being a guest on other people's podcasts may be the easiest one. There is very less prep time as you don't need to prepare slides and most podcasts are audio-only so no time is spent on grooming as well.
With podcasts, you have a space for anything and everything under the sun. So much so, you'll almost never run out of things to talk about.
This is why pitching fresh ideas to podcast shows becomes beneficial for both you and the podcasters involved. You'll always have regular content you can share with potential clients, without having to do a lot of work at the backend.


Attains New Bragging Rights
Getting featured in different podcasts gives you a sense of pride. You're allowed to let everyone know that you were a guest in these shows, and it simply feels great!
In fact, you can turn your bragging rights into an advertising strategy. When your audience is aware of where you got featured, it helps in building their trust, plus other podcasters will want to get you on their shows. The more shows you get featured on, the more new people you can reach.


Elevates Career
Podcasts are a great way to boost your career. They can help you connect with new people and build relationships that lead to opportunities. They can help you learn about new topics, meet new people, and gain exposure to your business or ideas.
If you have something valuable to share, a podcast may be the best way to reach new audiences. So tell me...
Are you ready to go from "best-kept secret" to "go-to expert" by being a guest on other people's podcasts?

I have some resources for you listed on this page.
Other Podcast-Related Blogs