Why should you choose to have a hub page in kajabi for your podcast?
The grid look helps your visitors browse the different episodes you have and choose the one that they want to listen to.
The player on top of your podcast page makes your page sticky, which helps in SEO, as people spend more time on your website as they listen to your podcast.
The show notes system that I share helps in building the SEO for your site.
This is what you get:
Podcast Page Template in Kajabi + Canva Templates for Graphics
Design 1
This is the classic version of the podcast template, it will suit whatever your brand style is. It has been used by so many Kajabians across different niches.

Preview here.
GET YOUR PODCAST TEMPLATE!
+ These Extra Bonus Content for setting up your Podcast
Podcast Managers List
I know it can be very time consuming and overwhelming to look for a good podcast manager.

I have curated a list of some great podcast managers you can hire to take your podcast to the next step.
Podcast Workflow Board
Manage your entire podcast workflow with help of a Trello board.
Training for Mastering your Voice on Podcast
A Special Training on Mastering Your Voice to Become a Podcast Authority

By Guest Expert Heather Sager
It's a simple, cost-effective process, that leaves you with a beautiful podcast page that converts.
We bought the template, we're given access to it, along with detailed instructions on how to customise it, and we were up and running.
Faye Clowes, Director,
She Has No Limits
The bar, as well as the lovely Canva designs, have increased the traffic to my podcast and episode downloads!
I absolutely love Sneha's podcast template!
The top player bar is beautiful and was easy to integrate onto my Kajabi website.
- Julie Greenham, Business & Mindfulness Coach
Thanks for the awesome template that was very easy to tweak and make it look like my brand.
I just wanted to quickly share my podcast page with you.
Launched it during the weekend and it's getting nice feedback. I love how it looks.
THANK YOU!
Saara
It has elevated the representation of our podcast and we LOVE how it's come together.
We are using Sneha's brilliant podcast template. It's brilliant and easy to use.
The Canva design templates provided made is incredibly easy to customised the look to align with our brand. We couldn't be happier. "
Sharon Longridge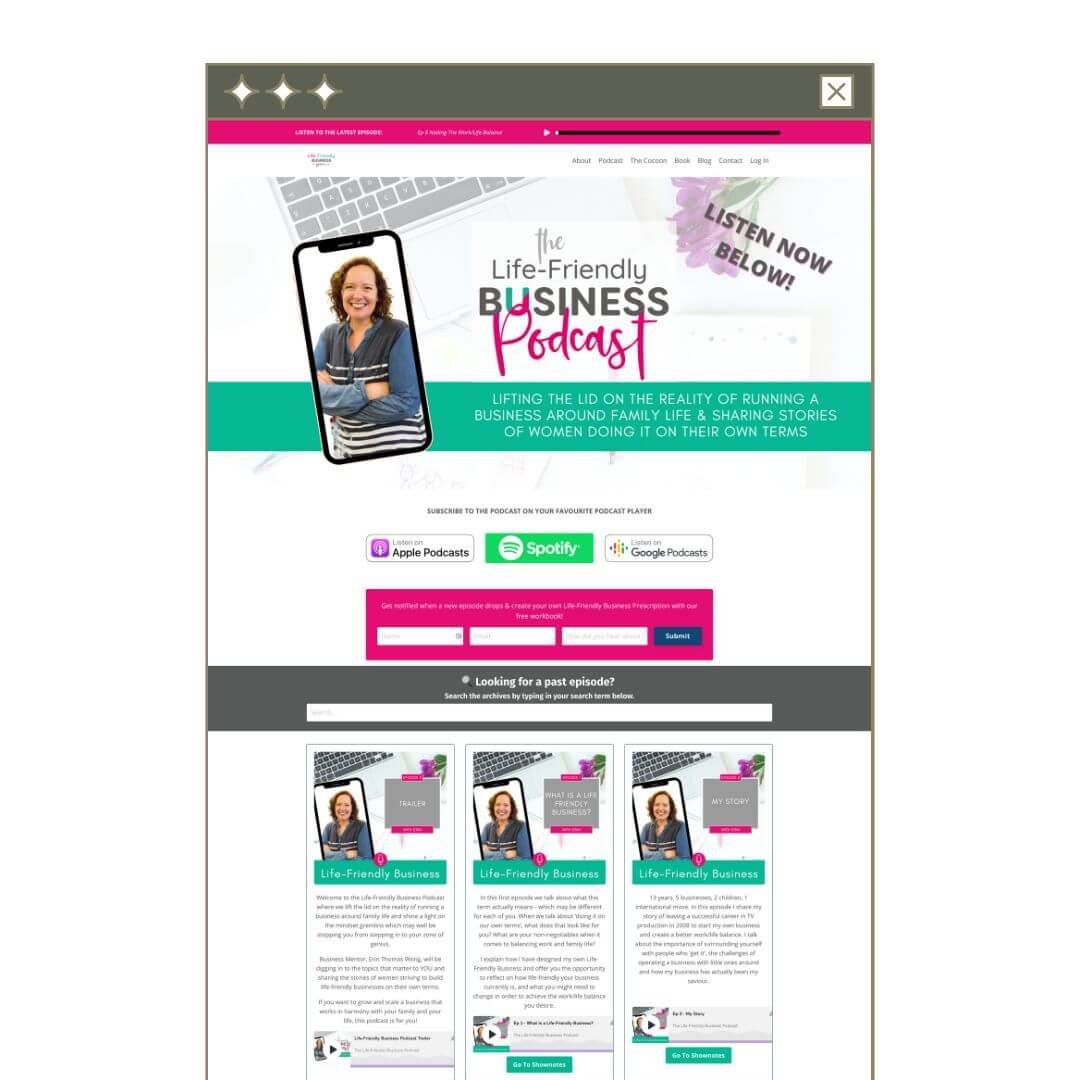 Absolutely LOVE the Podcast template!
It saved me so much time
and creates such a professional impression right from launch. Thank you!
Erin
Listen, Kajabians,you need Sneha even if you don't know it.
The podcast webpage template she offers is easy to use, totally customizable, and a great framework to turn your podcast landing page into listeners and clients.

She supports her product completely, and the time saved using this template was well worth every dollar spent!"

Maggie Landes, The Eat Fluencer Podcast
This is GREAT...
but tell me how do I get this template into MY Kajabi account?
I am glad you asked: Once you complete the purchase, you will get access to the member's area, where there is a video that will show you EXACTLY how to get the template into your Kajabi account.
HINT: you have to import a zip file ( provided to you) into your Kajabi account. ( No code skills or code access needed.)
Here are a few other questions that others have asked before they purchased this template.
Is the podcast player at the top of the page from a podcast host company?
Do new episodes get auto populated on the podcast page everytime I publish a new episode?
Do I get a shownotes page template as well?
Where does the shownotes live?
Should I have code access to use this theme?
What platform do I need to use this template?
When will I get my Podcast Template?
Will you show me how to customize the template?
Can I use this template if  I host my podcast on Kajabi.?
Can I see the demo of these pages?
I am a VA/Service Provider can I use this template for my client's businesses?
Is the template mobile friendly?
What is your refund policy?
Have some Q's before buying where can I ask those?
Choose the option that works for you and get started today with your Podcast Page
Join Our Free Trial
Get started today before this once in a lifetime opportunity expires.