Loom Review 2022: Details, Pricing, & Features
Is Loom a good screen recorder? Let's Find out...
Loom is a screen recording and video capturing tool that has been making waves in the online community. It promises an easy-to-use interface and powerful features, so is the app worth investing in for your workplace?
In this article, we will take a look at Loom and discuss its features.
What is Loom?
Loom is a screen recording and video capture tool that allows you to easily record your screen or webcam and share the recordings with others. Designed for ease of use and speed, users can record, share, and interact with video messages to get work done.
With Loom, you can share quick feedback or deep conversations in less time. By commenting on and responding to videos, viewers can form instant connections.
More than 14 million people are using Loom across 200,000 companies to collaborate faster with async video. Loom aims to become the collaboration tool of choice for renowned companies and small businesses alike.
It has a free and paid version, with the paid version offering more features such as longer recording time, higher quality recordings, and password protection.
How Does Loom Work?
Loom is very easy to use. Once you have installed the application, simply open it and you'll be led to this interface: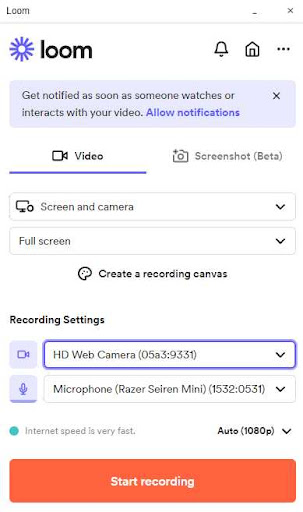 You can choose to record videos or produce screenshots (currently on Beta mode). Then, tweak your settings and start recording. When you are finished, hit stop and then save or share your recording.
Records Screen and Camera Simultaneously

With the press of the record button, you're free to record yourself while navigating your desktop. This makes Loom a reliable app for tutorials and recording yourself giving feedback on someone else's work.
Loom also offers an extension for Google Chrome that allows you to record your screen without having to download the app. This is great for people who do not want to install another application on their computer.
Easy-to-Share Video Links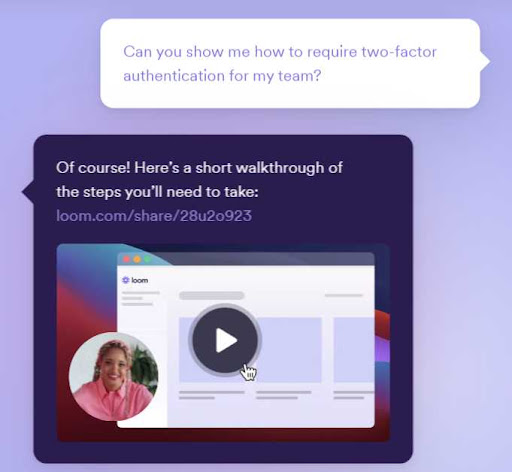 Worried about the size of your video files? Loom automatically compresses your videos so they are small enough to share via email or social media. You can also choose to download the video file to your computer if you want.
Loom also provides a link that you can share with others so they can view your recording. The link expires after 30 days, or you can choose to set a password for extra security.
Anyone in the world can watch your screen recording for free. Share your videos on LinkedIn, and Twitter, or publish them to the Google Search index.
What Are Its Other Key Features?
Automatically save videos to the cloud and share them instantly with a link
Leave time-based comments and emoji reactions & get notified when someone views, reacts or comments on your video
Choose who can see your video with security and access controls
Edit and trim your video using the Loom web app
Adjust video playback speed
Writes transcripts of the recorded videos
Screen Recording Settings
Record your screen, camera, or both for free
iOS and Android apps to record your mobile phone
Record in 720p, 1080p, 1440p, or 4k HD
Add flair to your video with camera frames, backgrounds, and camera effects like blurring
Video Hosting Features
Store your videos inside of Loom HQ
Upload Zoom and Google Meet recordings directly into Loom to search and find later
Create hashtags to keep track of important videos
What Are the Benefits of Loom?
There are many benefits of using Loom for businesses and employees. Some of these benefits include:
Easily share recordings with others
No need for expensive video editing software
Free and paid versions are available
Recording time, higher quality recordings, and password protection.
But probably the biggest benefit Loom provides is its capability of becoming a 'meeting replacement' in the corporate world. With Loom, stand-up meetings are a thing of the past. You can record a presentation with Loom and send it to your audience ahead of time. You can also screen record your next weekly update to add rich visual context and your own personal touch.
What are the Drawbacks of Loom?
While Loom does have many benefits, there are also some drawbacks to using the tool. These drawbacks include:
Some users have reported bugs and glitches, but that is the case with every software, these things when reported are constantly solved.
The free version has limited features
How You Can Use Loom as a Creator
Loom For Course Creators and Online Business Owners
Use loom to create the videos for your online course ( With or without you being on camera)
Share feedback with your students/Team members
Use short loom videos in your marketing
Loom for Education/ Online Courses
Educators can deliver individualized learning to students using Loom. Adding context to assignments is another benefit of Loom. Your students can pause and resume lessons at any time, so you can record them in advance. Loom will make it easy for students to catch up on missed topics.
Use Loom in the classroom and outside.
Educate while connecting with Loom.
Pre-record answers to FAQs and create an education content library.
Loom for Support
Improve your support experience with Loom! You can now delight customers and solve problems faster with the app. It's easy to sort out any problem with Loom's steady workflow and instant recording feature.
Loom is also a very useful tool for sharing feedback and resolving problems with internal teams even faster.
Team members can exchange critical information in context without being interrupted.
Capture your screen and share your thoughts to document and record customer feedback.
Document any issues by capturing your screen so you spend less time describing them and more time solving them.
Loom for Marketing
Clear communication is possible with Loom. Drive collaboration with your team and customers with video messaging. By creating videos that highlight new features, you can show customers how to take advantage of your product. Loom can also be used in paid ad campaigns, email marketing, social media, or any other way your customers interact with you online.
Marketers use Loom to:
Promote product marketing
Improve team collaboration
Expand digital marketing
Share expertise with ease


Loom Testimonials

Loom is a must-have tool for designers. It's so easy to make a quick video so my clients can SEE what I'm working on without having to schedule a meeting. And what's equally helpful is that my clients can leave time-stamped comments as they watch the video. It has really sped up and simplified the review process for me. It's easy to use and an indispensable tool in my business.

Melanie Lynn- Web Designer
Loom has three pricing plans: Starter, Business and Enterprise.
Creator and Creator Lite Accounts
On Business, creators have unlimited video recording capabilities. Each Creator is charged separately.
The Business plan also allows you to mix Creator accounts with Creator Lite accounts – so you can easily introduce more of your team to Loom for free. Creator Lite Accounts are also available in both Starter and Business plans with limited video recording capabilities.
You can view the full pricing list here.
So, is Loom a Good Investment?
Overall, Loom is a great investment for businesses and employees. It is an easy-to-use tool with powerful features that can help businesses improve communication and collaboration. While there are some drawbacks, such as occasional bugs and glitches, the benefits far outweigh the negatives. If you are looking for a screen recording and video capture tool, Loom is a great option to consider.
While you're at it, keep updated with the latest developments in the app here.