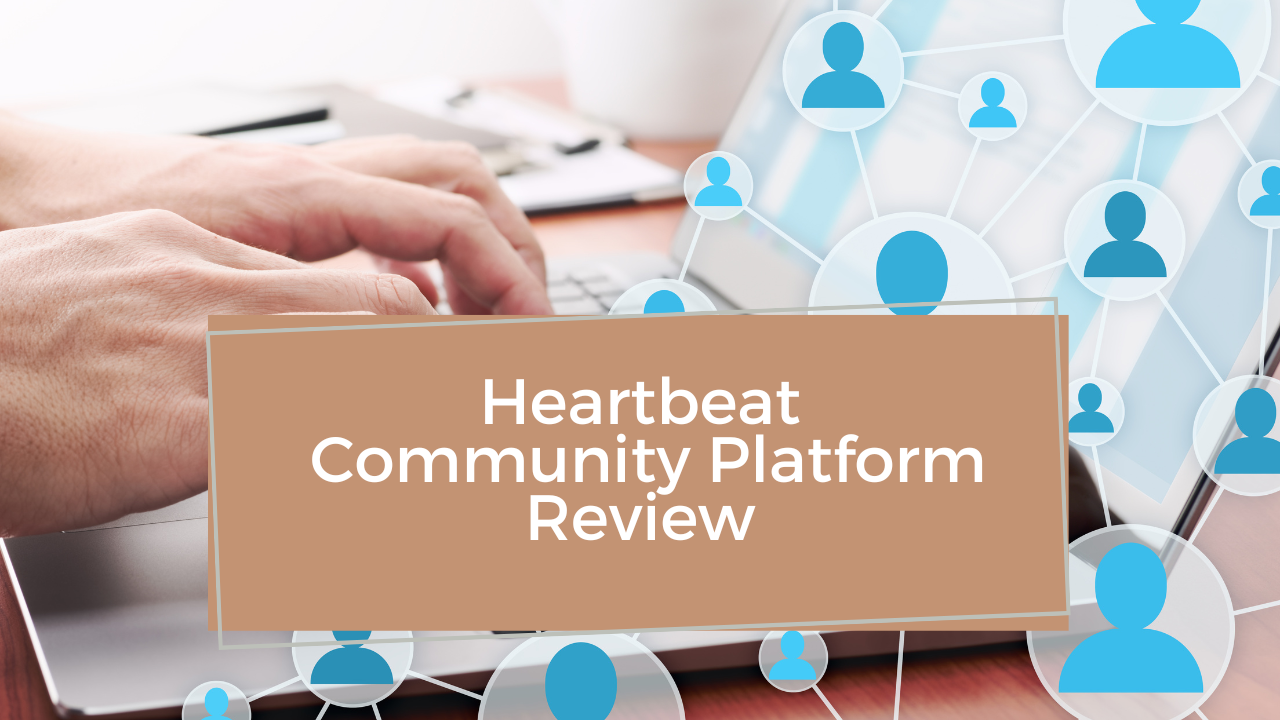 Build your community with Heartbeat!
Having a strong and dedicated community supporting your brand is perhaps the safest marketing channel and one that is sure to show results.
To build a thriving community marketers need a robust platform that has just the right tools and features. The platform helps marketers not only build but also manage, communicate and support their community.
One of the best community platforms is Heartbeat.chat.
Heartbeat.chat empowers community builders and creators to build a genuine relationship with their community. And is a one-stop destination for community building, hosting threads, events, documents and more. I have tried to put my reviews based on certain parameters.
Heartbeat.chat has many features like hosting threads, events, documents, automated match-ups, customised themes and more. After signing up on the platform and customising the community and completing the profile, you can import any existing communities from Slack or Circle.
This makes capitalising on the already present community convenient.
Threads
Threads save a significant amount of time and make engagement more organised. Threads help to categorise conversions which can be picked up and continued. They come in handy when you're short on time and looking for a specific conversion or topic.
One can attach documents and GIFs to make conversions interesting and informative. The platform also allows conducting polls in the threads to increase engagement.
Documents
Heartbeat allows users to host important documents like Product Roadmap, resources, lecture recordings, important links and saved threads under the section Docs. This makes organising and accessing important documents fuss-free.
Events
You can manage different events through Heartbeat. It allows integration with different platforms like Google Calendar and Zoom. You can invite select users or all the members of your community, it also sends reminders before the event starts.

Directories, Match-ups and Voice- Rooms
You get a detailed directory and profiles of your community members, which can be used to send a weekly newsletter- another feature on Heartbeat.chat- and get to know your community better.
One can design cohort-based courses, automate internal match-making among your community, and join live voice and video rooms within minutes. If you have a Zoom account, you can connect it to Heartbeat to get a seamless experience.
It is rather easy to attract people to a community, what is often more challenging is making them stay in that community. Every community is a collection of individuals and small groups of people. People sign up for communities because they get to experience something that they value. You can create many valuable experiences for your community members to make them communicate and engage with other members and stay in the community.

Heartbeat offers 8 such experiences you can pick from. Some of these are a book club, accountability circle, feedback corner and fail Fridays. You can also choose to create an experience of your own catering to the needs of your audience.
Users can choose to have a tired structured community, where members can be put in different levels of tiers, namely gold, silver and bronze. You can set how the members can upgrade or downgrade their tier and also how you can prorate the payments during upgrades or downgrades.
To ensure that your paid members stay paid members and free members convert to paid members, you can use the setting and strategies given by Heartbeat. For eg, you can force a re-subscription from paid members by limiting their access to community content after their membership expires.
Heartbeat has done an incredible job by letting the community builders give a preview of the experience of a paid membership to the free members. This will help encourage and influence the free members to get their subscriptions. You can also use it for existing members, what's more, is that you can upsell the experiences of members.
Heartbeat has recently launched their customer comm. With over 1000 members, Heartbeat's newly launched customer community The Hearth offers quality content to the community builders. They conduct expert tutorials every 2 weeks on different aspects of community building, along with town halls.
The Hearth also has various interest groups that have their own events. You can discover people and founders with the same vision and community as yours and connect with them to share insights.
Community builders can now section off different groups from each other on Heartbeat. With isolated groups, members of one group will not be able to see members of another group in the Online now section, mentions, directory and direct messages. They will only be able to see the admins and members who are in the same group as them.
In my opinion, Heartbeat has done an incredible job by taking in the suggestions and concerns of community builders to build a robust community platform. Some of the most useful features according to me, are isolated groups, live classes, enable assignments, promo codes and migrating community.
You can add payment links on your website for new members to sign up instantly. Heartbeat lets you create different payment links for existing members and new members. There is a detailed walk-through video provided by Heartbeat that you can refer to know more about invite links.
Embed custom HTML code in Heartbeat!

Now you can embed just about anything within Heartbeat with our updated HTML embeds! Add embeds to Threads by clicking the 'embed' icon in the 'Create Thread' screen. Add embeds to Docs & Course lessons by typing "/embed".
Courses
Heartbeat.chat lets you host cohort-based courses for your community. The feature is visible when you click on your profile present at the bottom left corner. You can add lessons and modules, and analyse the performance of the course at one glance.
Some of the updates done in the course section recently.
Duplicate a course with a few clicks
You can now duplicate an already published course in Heartbeat. You don't need to complete all the steps required when creating a new course.
The school doesn't feel like school if the teachers don't give students homework. And a course is incomplete without assignments. With online courses, it becomes even more important to be apple to assign tasks to students and track them. For a lot of courses, assignments are perhaps the only way to monitor students' progress.
Live classes have become the norm ever since the pandemic hit. With live classes, the one major drawback of online courses is addressed, doubt solving of students. Like physical classroom teaching, you and your students can have discussions, debates and doubt-solving sessions in real time.
Create groups for student
Under user engagement, you can create different groups, add members to the groups, enable certain permits for them and much more. You can also limit certain content to one or more specific groups or give exclusive access to a group.
Optimise existing documents
Let's say you have published some documents and resources before launching the course, maybe you were testing out the content before launching the course. And now you have a full course planned and plan to include the already published documents in it. Heartbeat lets you do exactly that by letting you migrate the existing content and document to courses.
Migrating existing community members
Let's say you were using a different community platform where you had a solid community, and now you are thinking of moving to a new community platform. But you fear building everything from scratch and losing the current community members you have.
You can now move the existing community that you have in another platform to Heartbeat without charging the paid members again or losing your community base. You can also migrate payments of new members.
Affiliate Programme

Build & manage a fully-fledged affiliate program within Heartbeat. Track visit, conversions, and payouts and much more!
This includes:
Easy payouts through PayPal
Double-sided incentives
Private invite-only campaigns
Easy affiliate dashboard for members to track link visits & conversions
All Heartbeat supported currencies
Unlimited affiliates & invites
ADMIN SETTINGS


General Settings
Heartbeat offers flexibility over how you control your community. From disabling DMs, enabling or disabling weekly digest in General settings to creating API keys, you can do a lot to effectively manage your community.
Integration
Heartbeat.chat allows integration with various platforms to enable smooth transition and communication. Some of these are Google Calendar, Outlook, Zoom, Salesforce, Notion, Zapier, Slack, and Circle.
Customised community
The best feature in my opinion is that Heartbeat lets you be in control of your community theme. Few other community platforms don't allow the users to customise their community which means that you have to stick to the colour palate that the platform offers. However, in Heartbeat.chat you can select colours of your choice and set the community theme to one that suits your brand.
Customised onboarding setup
Along with the community theme, you can also customise and set- up the user onboarding journey to fit your needs and wants. You can ask questions to know your community members better, post announcements of new on-boarders, and have them accept the code of conduct. You can also show a video to the new members introducing them to your community.
Not only that but you can also set up multiple onboarding processes for different offers.
Community Apps
Another cool feature is that you can select the features you want to enable in your community. For instance, you can choose to disable courses in your community you can do so by going to the Community Apps and disabling the Courses. You can use what you want and disable the rest.
Monetization
You can easily integrate stripe with Heartbeat and sell paid offers. Heartbeat offers community builders, creators and founders the option to monetise their community through paid membership and courses. There are various payment options one can choose from.
Various frequencies of payments
You can set up an instalment-based payment, be it weekly, monthly, quarterly or annually. Or, opt for a one-time payment. The choice is all yours.
On top of the overall community access, you can choose to give exclusive access to the paid community members or groups to paid channels or documents and give them event access.
You can create your own promo code for communities and courses using Stripe and give discounts to them. For creating such a coupon or promo code, you will have to log in to the Stripe account for Heartbeat and then go to the products section. Once there, you will then have to go to Coupons present in the left-hand side column.
Here you can put the coupon name, describe the coupon type, i.e. whether it is a percentage-based discount or fixed amount-based discount, and set the duration and redemption limits of the promo code.
User management
Heartbeat has perhaps the best user management settings. One can select the roles and have different settings for each of those roles. You can have an assistant manage your community and restrict them from editing roles or modifying groups. You can manage the user directory and download a CSV of your community members in the All Users section.
Notifications
When and where do you want to get notified?
You can set different notifications for different communities with Heartbeat by going to your account and then Notification settings. You can choose when to get notified on Heartbeat and when you want notifications from Heartbeat.
For eg, you can choose to get notified when someone from the community creates a thread or responds to a thread. Plus you can select where you want to be notified, on Heartbeat, mobile or desktops. You can choose multiple or just one of these. Again, you can do this for each community you have.
If you want to receive only specific emails from Heartbeat, then you can do so by setting them in the Emails section.
You can also override the notifications you set for a community for certain channels. This basically means that you will only get notified when you want to get notified like when the @mentioned or direct messages are received, on the devices that have notifications enabled.
Customise default notifications
You can customise default notifications for new members of the community. Let's say you want to notify the new members when a member posts something or someone sends a message to a chat channel, you can do so by enabling the notifications in the default members settings section.
Analytics
Heartbeat.chat provides insightful reports on various metrics from user activity like thread view and direct messages to the overall engagement of the community. These can be used to analyse and improve content and marketing strategy on the platform to increase community activity and engagement.
Activity logs can help the content and marketing team curate content that is popular and schedule it at the time the community is most active- which can be determined by the activity hotspots report. You can also see the top channel, top contributor and top threads that had the most engagement in a given time period.
Feature usage can help the team to analyse specific user behaviour. Time before first – DM, share, or other user activity– reports can be used to look at the root causes and help understand user pain points. Platform usage can help determine the consistency of the community across android, iOS, and desktop.
A Walk-through for the users
When you first sign in on Heartbeat.chat you get a walk-through of the platform. This helps you navigate the platform and help you set up your account on the right note. The interface is quite intuitive and aids the user to get the hang of the platform.
Available on Android, iOS, desktop and website
Heartbeat has an application that can be found in the Play Store of your android phone, the App store of your iPhone, iPad or Mac as well as a web interface. This increases the accessibility and ease of managing your community. It can also help with the reach of your community since a wide range of users can access the community without any hindrance.
User interface and experience
Having used the platform for quite a bit of time, what stands out to the users is how easy it is to understand and navigate the platform. The UI of Heartbeat.chat is smooth and straightforward with a clear user-guide tutorial that eases the onboarding journey for users.
The overall feel of the interface is smooth and has a pleasant feel to it, making the user experience satisfying.
Heartbeat.chat takes the feedback provided by users and community members to launch features that address user pain points and needs. It takes care of the major user (community builders') pain points like having no control over user onboarding and community theme. For the members, small features like disabling DMs, and logging in with Google, Apple or Facebook have been introduced to enhance their experience and increase engagement.
Free trial
Heartbeat.chat offers a 14-day free trial that can be cancelled anytime and requires no credit card. This free trial is offered for the three paid plans: Starter, Growth, and Business.
The Starter plan offered by Heartbeat includes all the core features to build a community of 1000 members along with brand colours and custom design. It also has Google calendar, Zoom and Zapeir integration to host events and meetings through the platform.
Whereas the Growth plan allows a community of unlimited members and provides insightful analytics reports that can be used to interpret community engagement, reach and community activity.
The business plan is a customisable plan which offers Heartbeat API and support. It also offers a 1:1 setup and enterprise integration to build a community of unlimited members.
With the features offered the plans are reasonably priced and worth the users' money.
Conclusion
Given the features and pricing, Heartbeat.chat sits proudly among the two most popular online community platforms. It has robust features, a great UI and quick support. If you're starting out on building your online community Heartbeat.chat is one of the best options out there.
Heartbeat is very user-friendly and intuitive for new users. There is already an extensive library of tutorials to get you started. Heartbeat is a bit like having your own facebook group but you can customise it to make it exactly what you want. I have not used the course features but I will be creating sub-communities for each cohort of live Zoom trainings I teach. I also schedule the live calls in the Heartbeat events feature. I like the control that Heartbeat gives me and I can only see this platform going from strength to strength.

Happy Customer of Heartbeat - Mark Egan

If you are not sure what is the importance of building an community in an online business you can read my article here.