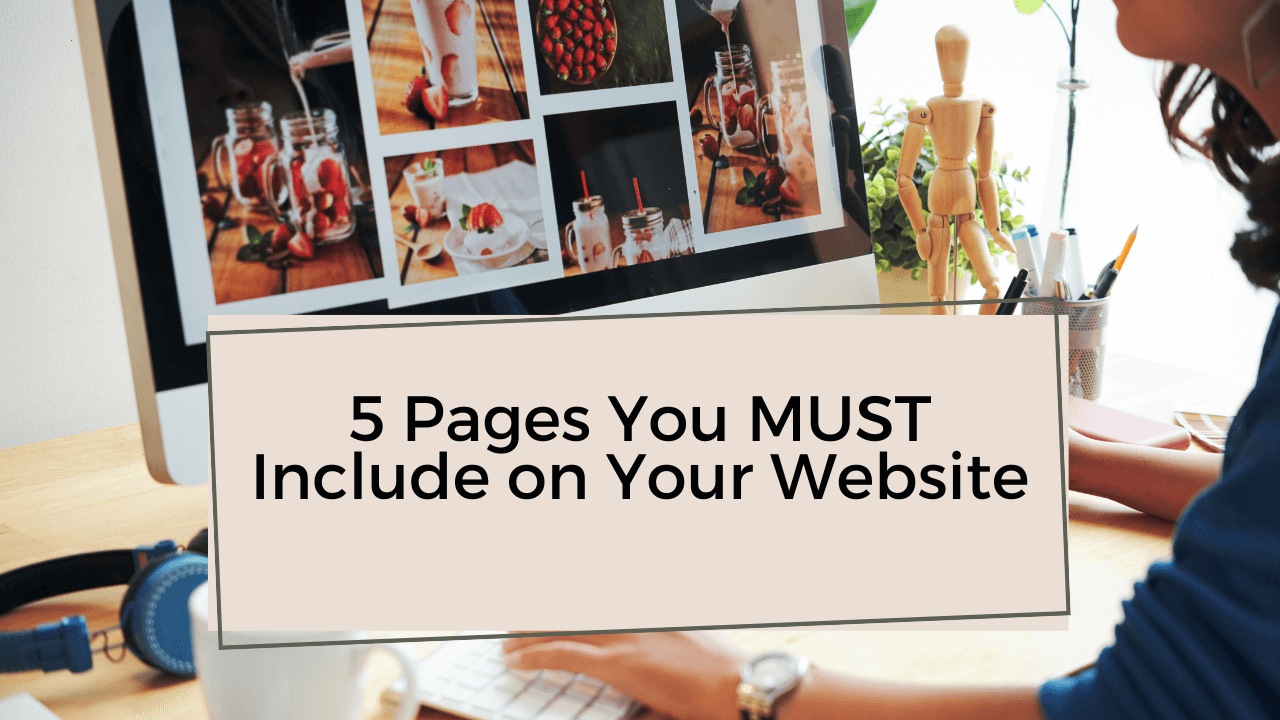 5 Pages You MUST Include on Your Website
Launching a service-based business can be quite overwhelming.
There is so much to do...you need to make a website, promote on social media, set up payment gateways and so much more...the list is endless.
When it comes to your website, I am here to lend a helping hand.
If you're deciding what pages your website should have this blog is for you.
Let's dive in.


---
Home Page
The home page is the HOME of your business. It's that warm welcome hug your visitors get from you, virtually of course!
Home Pages is the digital hub of your business, it is the page that serves as the GPS for your business, it will link out to various pages of your site.
Home pages need to have the right amount and the right kind of information.
The content it carries should be well-thought-out and well-designed.
You don't need to put everything on your home page, just add enough and lead them to the page that has more information about what they are searching for.


---
About Page
Don't overlook the about page of your website. With service-based businesses, the about page is the most valuable page. It talks about who you are, what you do, who you help and what do you stand for.
Give your potential clients a peek into your life and your work.
There are loads and loads of people doing the exact same thing you do, the USP of your business is YOU.
Don't miss out on highlighting that on your about page. ☺
About pages tell your potential client/customer why YOU are the perfect option for them and how hiring you will solve their pressing problem.
Share your journey, make sure you make it personal and the page should reflect your personality as well.


---
Service Page
You're a service-based business and of course, you have different services to offer. So you need to have a dedicated page for it.
After all, your services are how you make money in your business.
Step into your client's shoes and think about what they wanna know about each of your services.
Give them as much detail you can about your services: how they work, What they include, what results can they expect etc. If you are ok to list your prices do that.
Your services page helps your potentials decide whether it's for them and is it what they've been on the lookout for.
So decide the content of your service page such that it's capable of roping as many people in as possible! ☺
The service page is the money-making page for your business so they need that extra attention.
---
Contact Page
Your contact page needs to be welcoming.
They shouldn't have to fish your contact details, make sure your contact details are available easily.
Make it easy for your website visitors to get in touch with you.
Contact pages act as invites for people to come have a chat with you. Email address, social media icons and even address (sometimes) are aspects that you MUST HAVE on your contact page.
Not everyone will be ready to get on a call with you or send you a message, leaving your social media links can just be the thing they need to warm up to you and get to know you.
---
Blog Page
As a service-based business owner, you MUST blog.
Blogging helps spread the word about your business and attracts more eyeballs to your website and positions you as the expert.
In a blog, it's not only the content that's important but also how you layout the blog on the page. It needs to look attractive and organized. The information shouldn't be clumped up in one place.
Make smaller paragraphs and give a line break wherever needed. This trick makes content appealing and consumable.
As a service-based business owner, you can't sideline any of these pages. For your website to convert and for it to convert prospects to clients- these pages are ESSENTIAL!

If you are a Kajabi user and looking for a Website Template that has all the above 5 pages + a lot more check out my Absolute Website Theme here.