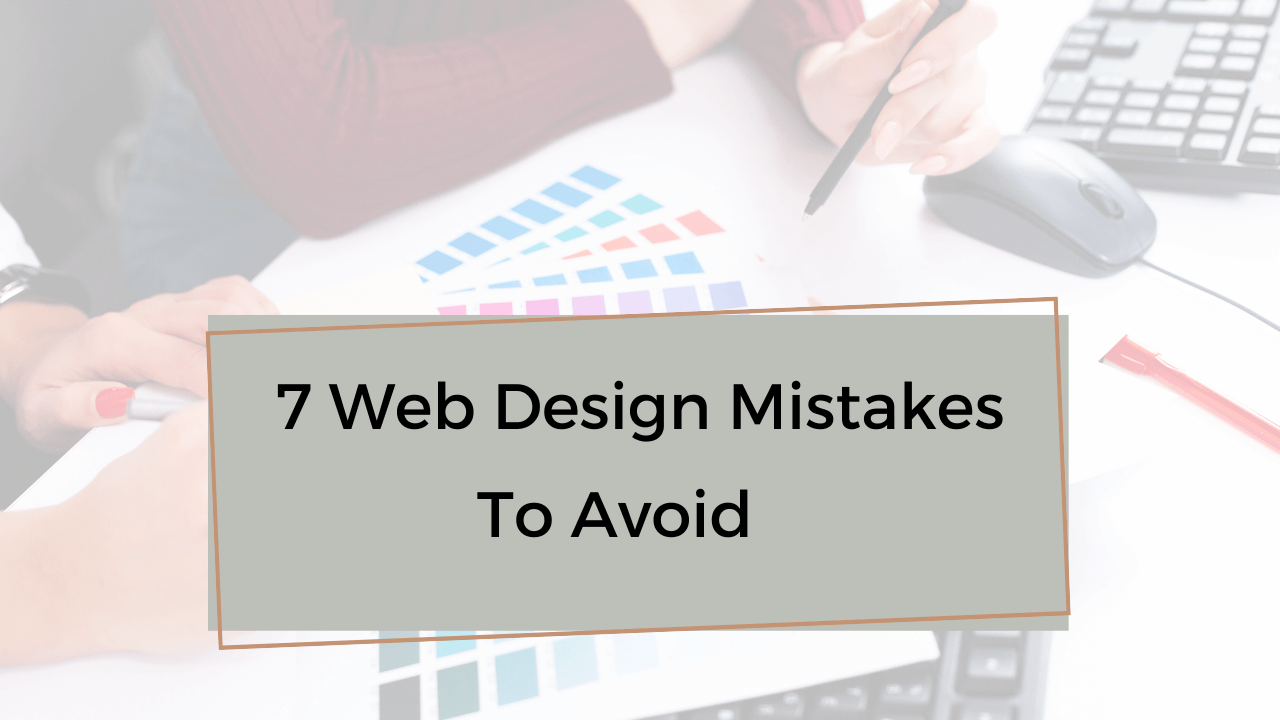 7 Web Design Mistakes to Avoid
Websites are the foundation of any business. Websites are more of a NEED now than a want.
Your website MUST be foolproof to provide a good user experience and keep the sales coming.
Web design is conceptualizing, strategizing, and sharing info - all at once. And because it's a complex task, we all can make mistakes.
It is ok because I have a list of the most common mistakes I have seen people make but I don't want YOU to make them.
As we discuss each mistake, I'll also help you avoid them, so make sure you hang in there till the end ☺
Mistake 1- Not having a clear Call-To-Action
The absence of a good call to action can harm your marketing efforts.
Without a clear call to action, there's loads of confusion for the visitor about what their next step is.
A lack of clear CTA will have you missing out on so many chances to convert a target to a lead or a customer.
Be sure you have several strong calls to action on your website and make them STAND OUT.
---
Mistake 2- No Clear SEO Strategy
If you want organic traffic to your website, your SEO strategy needs to be in place.
You should use the right keywords to appear in search results. But keywords are not the only thing that'll help you achieve a high ranking.
Adding relevant images, backlinking, heading format and tagging images, and filling the SEO details on every place provided by your website provider will all help you get found organically.

If you use Kajabi, this article will help you.

---
Mistake 3- Failure at Building a Mobile Responsive Design
It's crucial for your website to look good on mobile.
It is safe to say a lot of people are browsing via mobile these days.


---
Mistake 4- Confusing Navigation
Poor navigation will do nothing else but drive your prospects away.
They shouldn't have to figure out where your services page is or where your contact details are. It all needs to be right there so that they don't spend time searching for the content they're interested in.
Clear beats clever in website navigation. Leave the navigation as Contact Us instead of finding a cute or different way of saying it.
---
Mistake 5- Slow Loading Website
Your website should load fast, if it does not visitors leave to a point of no return.
Slow and steady doesn't always win the race here.
You can compress the images you use on your site in this tool here. Also, choose more JPEG format and png only when you want a transparent image.
Go as small as you can on the image size without it affecting the quality of your image as seen on the site.


---
Mistake 6- Contact Information NOT Visible
Visitors will want to get in touch with you very often. And it's a big put-off when they don't find your contact details easily.
It's always advised that your contact details should be clearly visible when they visit your website. You can put up a CTA button too, in the header, asking them to get in touch with you.
They shouldn't have to FIND ways themselves, to contact you. It should be there front and centre.
---
Mistake 7- Having a poor website flow
Your website should be laid out keeping the buyer's journey in mind. Don't bombard them with buy now buttons as soon as they land.
Try to make a connection, make them feel seen and heard, position yourself as an authority, and then lead them to ways of working with you.
Make sure you don't throw in large chunks of text making it overwhelming.
The good part about this is that these mistakes are easily fixable. However, we must try to not make them in the first place, by being mindful of them. While we're new to something; we make mistakes and also learn along the way.
So mistakes are inevitably a part of all our journeys.
I still thought of it as a good idea to write a blog about it. Maybe I can help you prevent some of them
Web design is crucial as well as powerful; make sure you put your heart and soul into it.
If web design is not your strong point then you can consider buying my templates so that you can avoid all these design mistakes and more.