MEET ABSOLUTE
Kajabi Website Template
Perfect for coaches, consultants, & course creators.
If you want a website that looks like it was custom built, but you want to DO IT YOURSELF on a budget, then this is for you!
This is a fully customizable Kajabi Website Template designed to get your website up and running quickly!
Note: This design works only for Kajabi.
Get Instant Access
About Absolute - Kajabi Website Template
This template is designed with conversion in mind, it has strategically placed list builders, calls to action, and storytelling all weaved in so that you can connect with your audience and position yourself as the expert.

This template is a perfect fit for businesses that like clean, modern designs.

SITEMAP
Blog Page

Blog Post Page

Members Directory

Announcements

404 Page
SEE ALL PAGES!
Bundle & save with the matching sales page
AVAILABLE AT CHECKOUT
Ideal for anyone selling courses/memberships or digital products.
Get Instant Access
The Absolute Kajabi Website Template is Completely Customizable
As a part of the Kajabi Website Template Purchase You Get:
KAJABI ZIP FILES
Pre Made Kajabi Templates in ZIP format inside the members area
CANVA TEMPLATES
Canva templates are provided to you, so the job of customizing the look of the website is a breeze.
SETUP TUTORIALS
I will provide you with step-by-step instructions and video tutorials so you can quickly and confidently customize the templates.
Meet your Designer
Hi, I am Sneha. Pronounced SNAY-HA
A KAJABI DESIGNER AND BUSINESS STRATEGIST.
I have been designing exclusively in Kajabi for the past 6 years, I have helped many clients with their websites and want to help you with yours as well.
With these templates, you get the best of me but without the custom build investment.
Templates help me serve more Kajabians like you than I can with my 1-2-1 work. 💛
Here's Why You'll Love The
Kajabi Absolute Website Template
Reason 1
The layout of each page is mapped out for you.
---
Reason 2
It is made keeping Strategy and User Experience in mind.
Reason 3
It is optimized to build the Know , Like and Trust factor
---
Reason 4
There are copy prompts that will help you write/ refine your copy.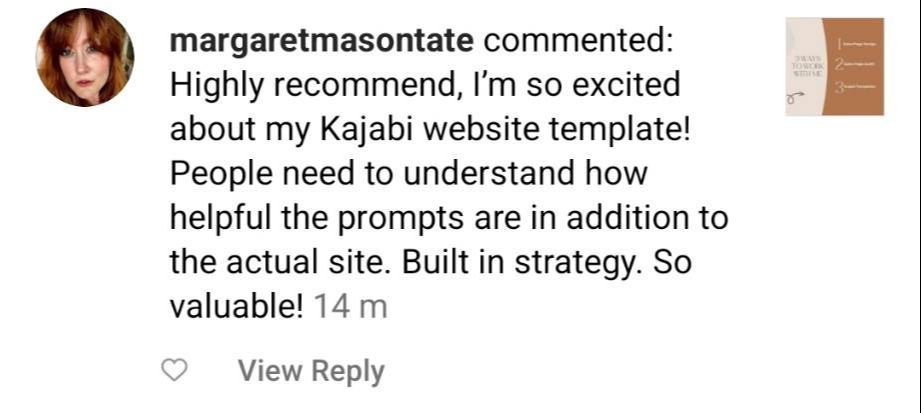 I really enjoyed using her templates.
My website looks very professional but I didn't hire out to have it made. I did it myself with the help of Sneha'a templates.
I really enjoyed using her templates because they were very simple to use and easily customizable to create a consistent branded aesthetic across my site.
Brenda Sanders
I am super pleased and proud of my new website!
A good website is equal parts, strategy, design and copy and Sneha's Absolute template pack takes care of all these parts of the website build.
I'm excited to share my site with the world.
Charlene Stackle
We highly recommend using her template for your Kajabi website.
The template is comprehensive and very easy to use and Sneha provides step by step instructions so we were able to create a beautiful new website easily!
Susan
Frequently Asked Questions
How do I get this template into my Kajabi account?
Will it be easy for me to swap colours and text?
When will I get my Website Template.
What platform do I need to use this template?
Are the templates mobile friendly?
Do I get copy prompts to write my website?
What is your refund policy?
I am a VA/Service Provider can I use this template for my client's businesses?
I have a question, can I email you?
Give yourself the QUICKEST and the EASIEST path to a brand new Kajabi Website
$397
Get Instant Access